Creative & Credible supports arts and health organisations and practitioners to:
– engage with evaluation creatively
– improve your practice
– make well-informed spending decisions
– strengthen the evidence base around the benefits and impacts of arts and health projects
Use this website to understand why you might need to evaluate, what approaches might be appropriate, and to plan and implement evaluation for your project. You will also find downloadable handouts, examples and links to other evaluation resources here.
For news of Creative & Credible Training Programmes like us on Facebook and follow us on Twitter.
Preparing to Evaluate
There is a growing interest in the role that the arts can play in addressing health and social care priorities, and a need to demonstrate their impact effectively. A variety of strategic programmes and policy initiatives are helping both to highlight the contribution that the arts can make to health and wellbeing improvements and to develop the evidence base. Arts organisations and practitioners will want to consider how they fit into this strategic landscape, how they can forge partnerships with health professionals and policy makers, and how then to prepare their own plans for evaluation.
Approaches to Evaluation
The approach you take to an evaluation will depend on what you want to find out. You will choose the approach that suits your project, your stakeholders and the resources and skills available to you. You may feel that you need to evidence your work using the language and methods used by those who are commissioning or funding you. However, it may be that the outcomes you want to demonstrate cannot usefully be addressed in this way. Co-producing an evaluation with commissioners and funders and involving them in identifying aims and suitable outcomes, will help to make sure that you understand each other from the outset.
Evaluation Cycle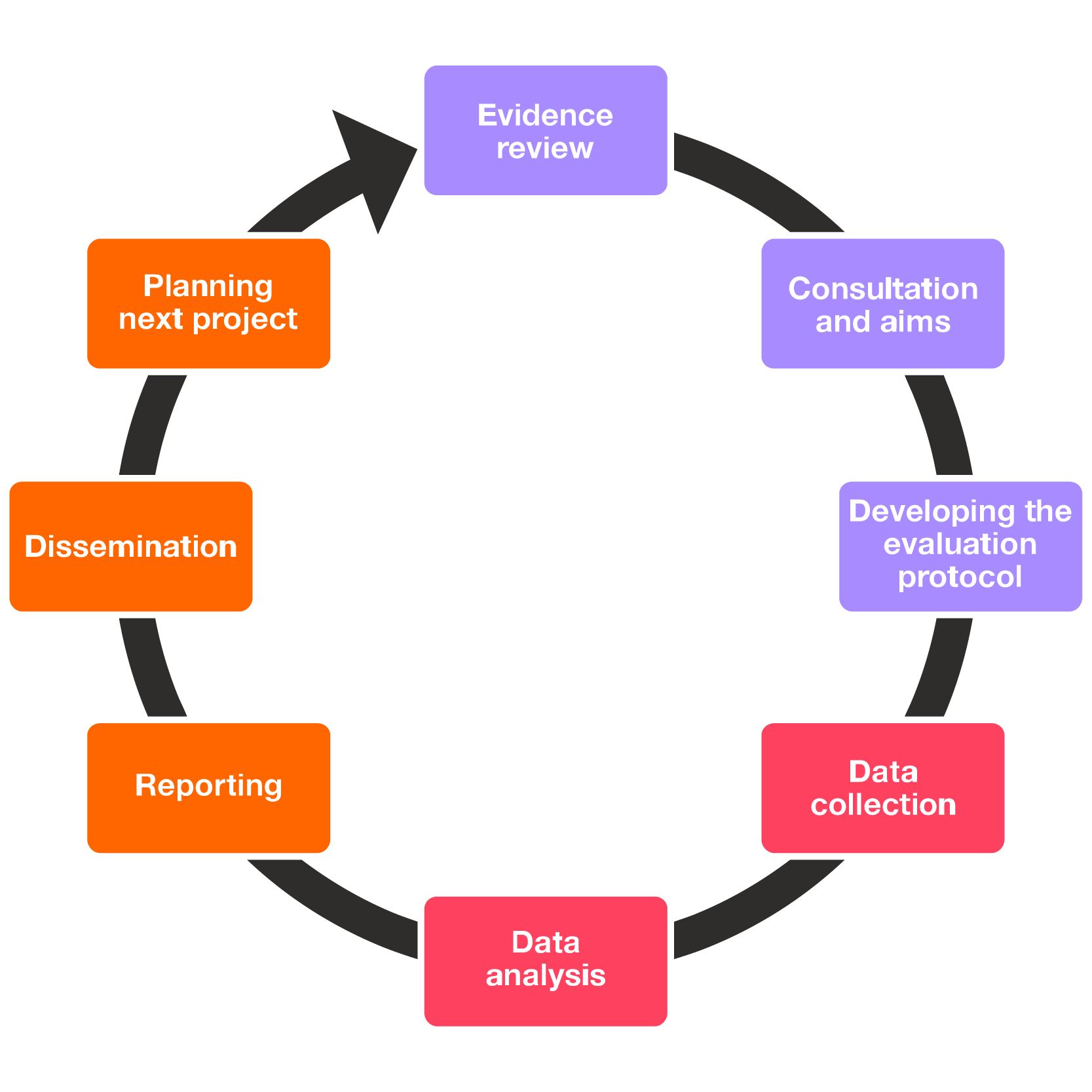 Any evaluation you undertake should be part of an iterative process, with your learning being used to help improve and develop the next phase or project. If you look at it in this way, rather than as a costly and time-consuming 'add-on', it becomes obvious that evaluation is an essential part of the process of delivering a project itself. The Evaluation Cycle offers an overarching framework in which to understand evaluation as this iterative process. It was developed by Willis Newson with researchers at the University of the West of England and will fit any kind of evaluation approach you adopt.
This cycle has three main phases: project planning; implementation; and reporting and dissemination. It is worth noting that the implementation phase (including data collection and analysis) is only one part of the cycle and that project planning and reporting and dissemination demand just as much, and possibly more, time and thought.
A published version of this cycle was developed by Norma Daykin, Meg Attwood and Jane Willis and its use should be credited to them wherever it is used.
Resources
The resources in this section are those that came to light during the Creative & Credible project, either during the literature review phase, or through discussion and interview with members of the Stakeholder Reference Group. This is not intended to be an exhaustive list of resources relating to arts and health evaluation, instead it provides background and references for all the elements discussed on the website. Weblinks (URLs) change. Please contact Willis Newson if you find a broken link so we can fix it.